Gavin Seim Resistance Podcast #001 | Giant River Boobs
Published August 29, 2023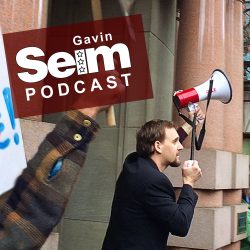 Host: Gavin Seim
This episode has no sponsor.
To subscribe download a podcast app like Apple Podcasts or Google Podcasts Pocket Casts etc. Search for the show or just copy this show feed to your app… http://callmegav.com/feed/podcast
Things and links…
This show was recorded LIVE. Watch the live replay video and comment here.
Here's the Mexico toll booth video we talked about on the show.
The big topic of this show is the new podcast and escaping the algorithm. It's not just controlling is with videos. It's sending people to prison. Take a look at this video.
We talked a little about Cart Narcs.
And let's not forget about the #riverboobs that Texas installed. Here's the breakout video I did on that.