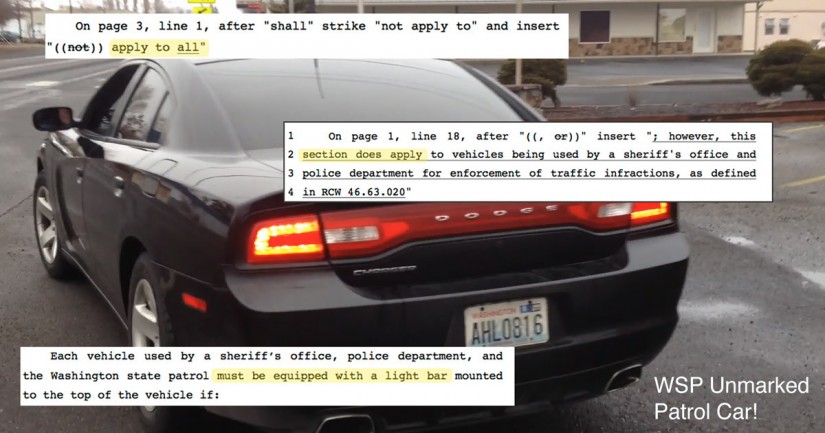 Ever since I pulled over a deputy last Fall, the conversation about police stopping drivers with unsafe unmarked cars has exploded around the globe. Washington Police are not happy about the many citizens that are calling them out. So much so that they have approached the State legislature to try and get the law changed.
Police rampantly abuse unmarked cars and openly violate RCW 46.08.065. Recently they approached Rep. Liz Pike and got to her promote a bill that would REMOVE ALL RESTRICTIONS. The outcry against it was strongly clear, but the bill is still moving forward, pushed hard by police representatives and their legislative lackeys who believe we can't have citizens enforcing the law on police.
ON the other hand, WA Liberty Representative, Dave Taylor gets it! He just took it in a new direction with a group of amendments that if passed would bring the hammer down on these dangerous unmarked vehicle use.
Taylor filed amendments to WA HR1951 not only to restrict ALL usage of unmarked cars for traffic patrol. He went further, introducing another amendment that would require all traffic patrol cars to use light bars like they did in the old days.
With unmarked cars you can impersonate a police officer and get anyone to stop on the road with only a $30 pair of dash lights. These amendments would not only stop unmarked car abuse, they would re-introduce light bars, as all patrol cars should have making it even harder to fake a police car. There will of course still be exemptions in place for necessary undercover work.
Bravo to Dave Taylor. Simple and to the point amendments that if passed into law would hold government officials accountable. Below are some key points from these amendments. You can read all the details on the terrible bill Rep Pike introduced as well as the amendments introduced by Taylor. It's likely we'll get the Support of Shea, Scott and other liberty representatives in WA on this as well. But you need to call your legislator and tell them to get on board.
YOU need to TAKE ACTION.

If you live in WA, CALL your legislator and tell them to GET UNMARKED PATROL CARS off the road. Tell them you want them to SUPPORT Rep. Taylor's amendments 35, 36 and 37 to HB1951.



Comments
comments